About Dr "Jack" Jörg Leib
Founder of YOUinConsulting

Motivation and background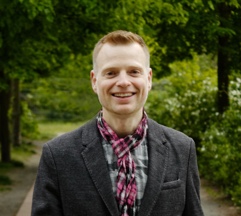 Becoming a top management consultant had been a professional career goal early on, and has remained my passion to this day. I assist my clients worldwide with their business — and sometimes personal — transformation journeys and enjoy consulting work, which includes a wide range of activities such as technical analyses, effective presentations and purposeful client communications.
My consulting background:
McKinsey and others
I established my consulting expertise over a number of consulting-related experiences and activities. Prior to serving as an independent management advisor, I worked for five years as a consultant and project manager for the world's leading management consulting firm, McKinsey & Company. As a focus, I supported strategy projects in the raw materials industries and served clients in banking and mechanical engineering. These consulting projects have led me to America, Asia and Europe, covering both developing as well as industrialized countries, and I indeed have some "war stories" to tell…
Already prior to joining McKinsey I had researched the industry intensely. Among other activities, I did internships at McKinsey's competitor Roland Berger, in "Big Four" firm Ernst & Young (EY)'s transaction advisory services unit and at a medium-sized consulting firm. Furthermore, I have interviewed with virtually all leading strategy consulting firms as well as some medium-sized consultancies. I have attended many consulting firms' recruiting workshops (including several "top events"). During this process, I have developed highly effective application and interview strategies. I was also selected as one of 20 finalists from 2000 applicants for McKinsey's "CEO of the Future" contest to solve and present a consulting case study to a panel of German stock exchange (DAX) company board members.
Moreover, I maintain a strong network of consultants who work for various firms and contribute their knowledge to YOUinConsulting.
Before becoming a management consultant, I completed a PhD at Imperial College London on the economics of climate change. I finished my studies in economics at the universities of Heidelberg, Jyväskylä (Finland) and Bonn as best in class.
Again and again, I have been asked for advice on (consulting) career decisions. Many people share the dream of becoming a management consultant and perhaps even starting their career at one of the world's leading consulting firms. Others have already made the leap into consulting and now find themselves confronted with the recurring challenges that consulting business and its institutions regularly present.
I view it as a priority to empower these people to make the best career decisions, then guiding them towards career success. However, I found that the commonly available glossy career magazines, sponsored recruiting events, anonymous internet forums (and so forth) do not truly serve the purpose of differentiated opinion-forming and optimal career preparation.
I decided to satisfy this vital need for information through YOUinConsulting: For people who aspire to (or have already started) a career as a management consultant and want to shape it successfully, I developed Youinconsulting as an independent institution. It provides unprecedented consulting insider knowledge on the entire consulting life cycle – transparently, authentically, personally, and in a structured, didactic and entertaining form: entry, rise and exit!
Making YOUinConsulting and the insider knowledge it provides on the consulting industry more widely-known is a matter close to my heart. Therefore, I am generally available to contribute to industry reports, interviews, (online) panel discussions, etc., and to write high-quality articles for (online) news magazines, related blogs, etc. I create high-quality content and write all my articles personally (without a ghost writer). In addition, I am featured on the YOUinConsulting YouTube channel, showcasing my wide array of creative expression.
 For an inquiry, please contact me at jack(at)youinconsulting(dot)com or by using the contact form.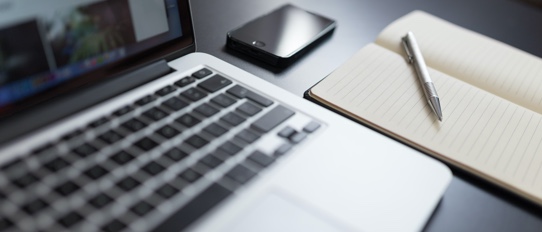 Business consulting services
Besides my activities related to YOUinConsulting, I continue serving as an independent management advisor. My consulting portfolio covers:
Managing international and intercultural projects across developing and developed countries, offering both in-person and remote support services
Analyzing and improving business processes, in areas such as
– Operational performance (e.g., production analysis, sales strategy, etc.)
– Opportunity/risk analyses of new business ventures (such as expansion, or start-ups)
– Business evaluation and transaction advisory services
Managing and facilitating business communications to meet special challenges (e.g., fundraising pitches, project tender applications, etc.)
– Designing creative stories and agendas for high-priority presentations and key project documentations with a "wow" effect
– Running quantitative analyses to develop the supporting fact bases
– Preparing and facilitating (virtual) meetings and workshops, with (keynote) presentation delivery
– Offering presentation skills coaching and/or personal assistance in workshops and meetings
Preparing premium project documentation in English and German, including copywriting
Facilitating consulting skills training bootcamps and coaching for senior career changers, young entrepreneurs, and founders
For a business support inquiry, please contact me on consultingservices(at)youinconsulting(dot)com or by using the contact form.
Consulting reference projects
As an independent management advisor
Managed an operational performance improvement program for a South-East Asian steel manufacturer (cold rolling, galvanizing)
Provided business development, client acquisition, and communications services to a medium-sized British-Italian consulting firm
Managed the Bill and Melinda Gates foundation's vaccine injection device tender application process on behalf of an Eastern European medical device manufacturer
Executed financial due diligence of a business transaction for a non-specialist entrepreneur
Serving as a business development advisor to medical aid "Luer Safe" patent start-up and, in a joint effort with the team of inventors, won 4th prize at the Alliance for Patient Safety's "German Award for Patient Safety 2019" competition
Evaluated young founders' start-up plans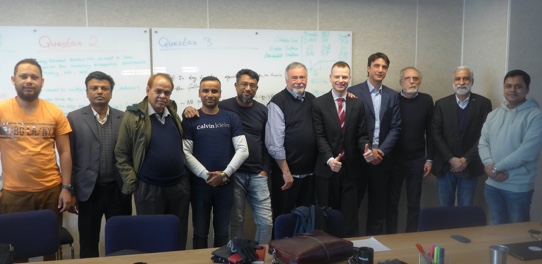 Workshop in Milan with Asian client delegation
(Jack is fifth from the right)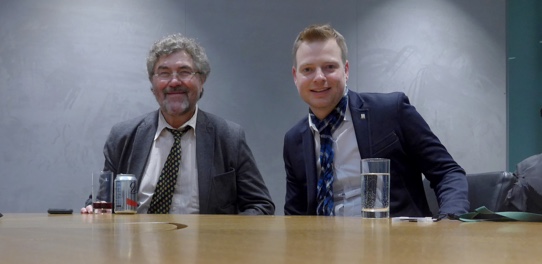 With a business project partner in London
As a management consultant with McKinsey & Company, Roland Berger, etc.
Evaluated revenue synergies and prepared value capture as part of a transatlantic merger in the chemical industry in Europe and the US
Derived the maximum earnings potential of a European utility company after optimizing its go-to-market model
Analyzed waste treatment technologies and the potential to reduce plastics waste flows into the oceans in China and the Philippines
Evaluated the market attractiveness of substitutes for antibiotic growth promoters in animal mass production for a European chemical manufacturer
Developed a growth strategy for a European steelmaker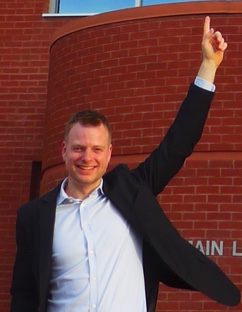 In front of a US client's office
Reviewed and developed a growth strategy for a medium-sized manufacturer of industrial goods supplying customers in the mining and oil and gas industries
Accelerated the approval process of a European infrastructure project by introducing a novel stakeholder comment management system
Benchmarked the risk data aggregation capabilities of ~30 system-relevant banks aspiring to regulatory compliance
Supported the public approval process and environmental impact assessment of a transnational gas infrastructure project in four European countries
Conducted business valuation of a medical technology company
Supported restructuring of a tableware company by optimizing procurement and logistics processes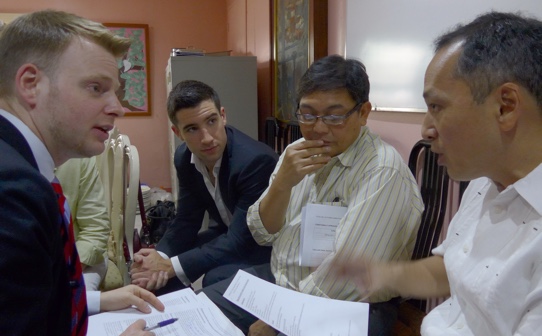 Conducting a client workshop in the Philippines